---


Description of
Strategy Heads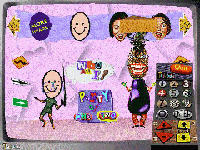 Published by: Theatrix
Age range: 10-14
Year: 1997
Image © Theatrix. Used with permission.

Strategy Heads, like its companion Math Heads, creates a TV-like environment by interspersing game shows with a preview channel, a shopping channel, and a "Get A Head" channel in which a player can create her own contestant by selecting a head, body, and accessories. The three mathematical games are based on geometric reasoning and problem solving. Eye Gotcha poses geometric puzzles such as predicting what pattern a series of folds and cuts of a piece of paper would produce. Mystery Theater tests the player's ability to visualize the effects of geometric transformations such as "shear" and "motion." Mondo Mazes combines navigation through a maze with geometric transformations to the maze. The player must modify the maze to create a path to valuable goodies, then follow the path using directional arrow keys. Each of these games can be played at 3 different levels. Players amass points (dollars) by solving puzzles and winning games. These can be used in shopping for things such as new heads for Get a Head, additional geometry puzzles, and suggestions for off-computer activities. Players can shop until their credit gets too low for additional purchases.

More Descriptions