---


Description of
Strategy Challenges of the World Collection 2: In the Wild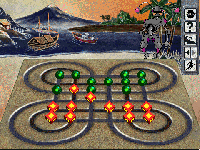 Published by: Edmark
Age Range: 8 to adult
Year: 1996
Image © Edmark. Used with permission.

This game offers a choice of three strategy board games, Jungle Chess, Tablut, and Surakarta. In each game the objective is to move your pieces on varying grids in order to capture your opponent's pieces. For each game there are choices of levels, speeds of play, the option to play a friend or the computer, and six opponent characters representing offensive and defensive strategies. The characters are intended to be realistic and diverse, representing various different genders and ethnic backgrounds. The backgrounds for each board game allude to the origin of the game (a Chinese mural, a Himalayan mountainscape etc.) Help is available in the form of a mist the player can click for advice. As a side attraction, there is the Strategy Safari, a series of video clips, showing how animals use strategic behavior to hunt, seek shelter, and protect the young.
See also Strategy Challenges of the World Collection 1: Around the World.

More Descriptions