Description of
Strategy Challenges of the World Collection 1: Around the World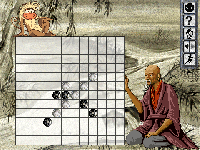 Published by: Edmark
Age Range: 8 - 14
Glass Wall Suggested Age Range: 8 - adult
Year: 1995 Image © Edmark. Used with permission.

This game is a collection of three classic games many children will know from their play off the computer -- Mancala, Nine Men's Morris, and Go-Moku. These games all involve using strategy as you play, and the mathematical focus is on developing strategies. There are also facts about the history of the game, and videos the player can choose to view, about how people use strategies in their everyday lives. There are a variety of levels (chosen by the player) for each game. The games can be playedagainst the computer (nine different players from around the world), or against another person.
See also Strategy Challenges of the World Collection 2: In the Wild.

More Descriptions