---


Description of
Snootz Math Trek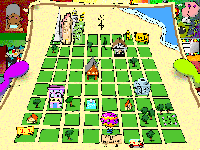 Published by: Theatrix
Age Range: 6 - 10
Year: 1995
Image © Theatrix. Used with permission.

An opening animated sequence sets up the goal for the game.You must help a pair of brother and sister Snootz, friendly space aliens, accomplish their mission of gathering items on a shopping list and fixing their spaceship so they can return to their home planet. The game areas include a store elevator (logical reasoning about attributes), a mechanic's garage (completing a 2D shape puzzle), a city street scene (repeating a sequence of sounds), a hide and seek map game (using coordinates on a grid to locate a hidden Snootz), and a spatial strategy game in which you take turns moving pieces on a grid to capture your opponent's pieces. There are two areas which are not puzzles: SnapShotz, an area which allows you to write captions for photo album recording your progress through the game, and a library which gives background information about the Snootz planet and information for parents about the mathematical content of the games. A translator device allows you to convert back and forth from to written English to Snootz code.

More Descriptions