Description of
Thinkin' Things 3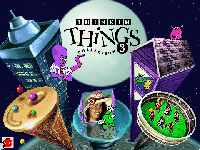 Published by: Edmark
Age Range: 7 - 13
Year: 1995
Image © Edmark. Used with permission.

Thinkin' Things Collection 3 offers players a menu of five independent activities that emphasize problem solving and creativity. There are two activities that actually pose problems that have answers, while the other three are construction spaces In Let's Make a Trade, the player's task is to transform a starting "portfolio" of several items (e. g., keys and coins), to a goal portfolio of several different ones, using a set of legal trades. The other puzzle, Fribble Place, is based on attributes and logic. A set of Fribbles with varying color, hair and complexion must be placed in a grid in a way that satisfies a set of constraints. Each of these games has a changeable level of difficulty and can provide useful hints.
Each construction space provides a set of tools for players to create something of their own design. Half Time provides tools for creating a half-time show in a visual programming language. Photo Twister includes a large variety of visual effects and image processing techniques for creating "photos", and the third, Carving BLOX, is a physics space for constructing landscapes of ramps and trenches. Each of these activities includes a set of ideas as a starting place. the game also includes suggestions to parents for helping their children use the software effectively.
See Thinkin' Things 1 and Thinkin' Things 2 for other games in this series.

More Descriptions