---


Description of
Oregon Trail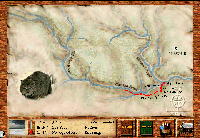 Published by: The Learning Company
Age Range: 10+
Year: 1995
Image © The Learning Company. Used with permission.

In this game, you shepherd a group of pioneers from Independence, Missouri, to a destination you select in the new west (such as Oregon, California, or Utah). You begin by planning the trip: buying supplies, getting advice, joining a wagon train. Then, as you travel, you make decisions about how to cross difficult rivers and hills, which places to trade, hunt, or stop and rest, and how to treat members of the party who are injured or sick. There are three levels of difficulty to choose among.

More Descriptions