---


Description of
James Discovers Math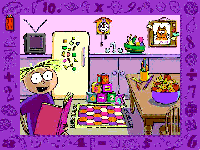 Published by: Brøderbund
Age Range: 3-6
Year: 1995
Image © Brøderbund Used with permission.

This game, hosted by a young Australian boy name James, offers a choice of ten different activities, all located in the kitchen of James's house. Most activity areas offer a free play or design option as well as a more directed task. For instance, in one area you can create a face choosing from small, medium, or large facial parts, or you can make a particular face the games requests. Other areas focus on content such as telling time, shapes and their names, using shapes to make a picture or design a carpet, counting, addition and subtraction, and estimating and measuring with nonstandard units (such as pencils). Players can also listen to and participate in a Number Sing Along (you get it by clicking on the TV), or a Number Story (you get it by clicking on the book).

More Descriptions