---


Description of
TesselMania! Deluxe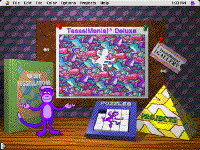 Published by: The Learning Company
Age Range: Grades 3 - 12
Year: 1995
Image © The Learning Company. Used with permission.

The main feature of this game is a play area where you can design your own tesselations or tilings. The program allows you to choose among a wide variety of shapes (squares, triangles, hexagons) and use them to make tesselations. There are also drawing tools and clip art to color and decorate your creations. The "About Tesselations" section offers a definition of tesselations and some history. A project area lets you use premade tesselations or your own to make cards, calendars, posters, and other things. The "Art Gallery" and "Puzzles" areas both let you view many examples of tesselations. The puzzles area mixes up some of the pieces so you can put them back into place. The software comes with some supplementary activities for classroom use.

More Descriptions