---


Description of
Major League Math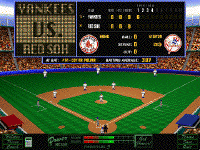 Published by: Theatrix
Age Range: 8 - 12
Year: 1997
Image © Theatrix. Used with permission.

Major League Math intersperses 3-D animated baseball play with math problems on addition, subtraction, table reading, conversions, and estimating. Your goal is to win the baseball game by carrying out a series of successful plays. Game play involves choosing a pitch (fast ball, curve ball, sinker, walk, etc.) if your team is in the field or choosing a type of swing (or stealing a base) if your team is at bat and then answering a math problem involving players and statistics from 1996. Once you answer, the play unfolds in animated 3-D on the Jumbotron screen. There is a Coach's Corner you can visit for help, as well as team and trivia libraries. There are also 4 video-game areas where you can go to "Power Up" on skills in pitching, batting, fielding, and base running.

More Descriptions